Modern & Luxury Cafe Furniture
Cafe Furniture, Australia
If there is anything that The Cafe Furniture Company is famous for most, it's our extensive range of contemporary cafe furniture in Australia. Whether you are after cafe furniture for sale for your indoors or outdoors, cafe furniture that is airy and modern or deeply nostalgic with European vintage charm, we are your one-stop shop to fit out your eatery.
Inspire comfort or decadence with your choice of commercial cafe furniture. Choose a rustic wooden outdoor cafe table that complements your terrace, garden or verandah view, or create the feeling of luxury without the upkeep with marble-look table tops for your indoors. Our range of café furniture in Australia gives you all the pieces to fit out a new cafe, replace damaged furniture, or place new chairs and tables to elevate your venue's look.
We make it easier to get designer furniture solutions for your cafe at a reasonable price, no matter where your cafe is located. We deliver Australia wide, with flexible finance options to spread out payments to better fit your business's budget.
WHY US
Excellent customer service.
Custom Furniture
Custom furniture options - Powder coating, French Polishing and upholstery.
More info
Extensive Range
A large variety of furniture options in stock for immediate delivery.
More info
Australia Wide Shipping
We deliver Australia wide - There is no destination we cannot deliver to.
More info
NEW ARRIVALS
See below some of our exciting new products.
Quality products, great prices and a highly experienced, professional and knowledgeable sales team.
COMMERCIAL FURNITURE SPECIALISTS
The Sporting Globe
King Street Wharf, Sydney – Zone Design.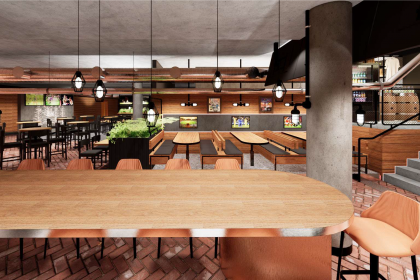 The Blog
Are you looking to purchase cafe chairs for your restaurant? Get everything you need to make an informed decision through the details shared in our guide.
More..
Elevate a restaurant's aesthetics and create a delightful experience through quality cafe furniture. Discover how it's done in this restaurateur guide.
More..
Are you ready to launch an incredible sidewalk cafe experience for your restaurant? Be sure to include these must-have outdoor cafe furniture essentials.
More..
Create an Experience with Hospitality Furniture
As a hospitality venue owner, your goal is to always create a pleasing experience for your customers. Buy furniture for your hotel, restaurant, bar, cafe, club or another venue from a specialist supplier, for total peace of mind.
The Cafe Furniture Company supplies a wide range of commercial hospitality furniture designed to outfit spaces made to make guests comfortable. We are the experts. Our hospitality furniture lives and breathes beautiful, comfortable, high-quality designs that set your venue apart. You can always select from our wide range of restaurant furniture for quality products that match the interior design you desire in your premises.
Restaurant Tables and Chairs
Set every table for your diners with confidence. Every set of dining table and chairs create the base of a new opportunity for your guests. We make this simpler at the Cafe Furniture Company with stunning tables, chairs, and stools that make every table setting special. Mix up the restaurant tables and chairs you choose to change up the atmosphere across your venue. Choose cushioned bench stools for intimate booth-style seating, or go for long wooden communal tables to seat large groups for family-style dining.
We give you the palette to master every design with our extensive and high-quality range of restaurant chairs and tables. 
Commercial-Grade Furniture for Heavy Use
If there is one thing you must strive to have in all your furniture, it is furniture that is specially designed and made for commercial use. Our indoor and outdoor commercial furniture is designed for the heavy use that comes from being used day in and day out by customers; and is made from a range of different types of finishes such as stainless steel, powder-coated aluminium, hardwood and softwood timber, and wicker.
Our products are easy to clean, look after and maintain. Strong, high-end and stable, many office managers also love using them for their office furniture. Many of our products have also been used for banquet halls, RSL clubs, gaming rooms, healthcare, etc.
Unlike other furniture suppliers, we go further. We give our customers the ability to customise their furniture to suit their theme or decor better. Nearly every product has options to help you fine-tune colour, finish, size and more.
Our goal at the Cafe Furniture Company is to always assist our customers with getting the best and most stylish furniture into their cafe. We put priority on comfort, design and ease of use for staff for every product. Have a question? Please get in touch.
OUR BRANDS